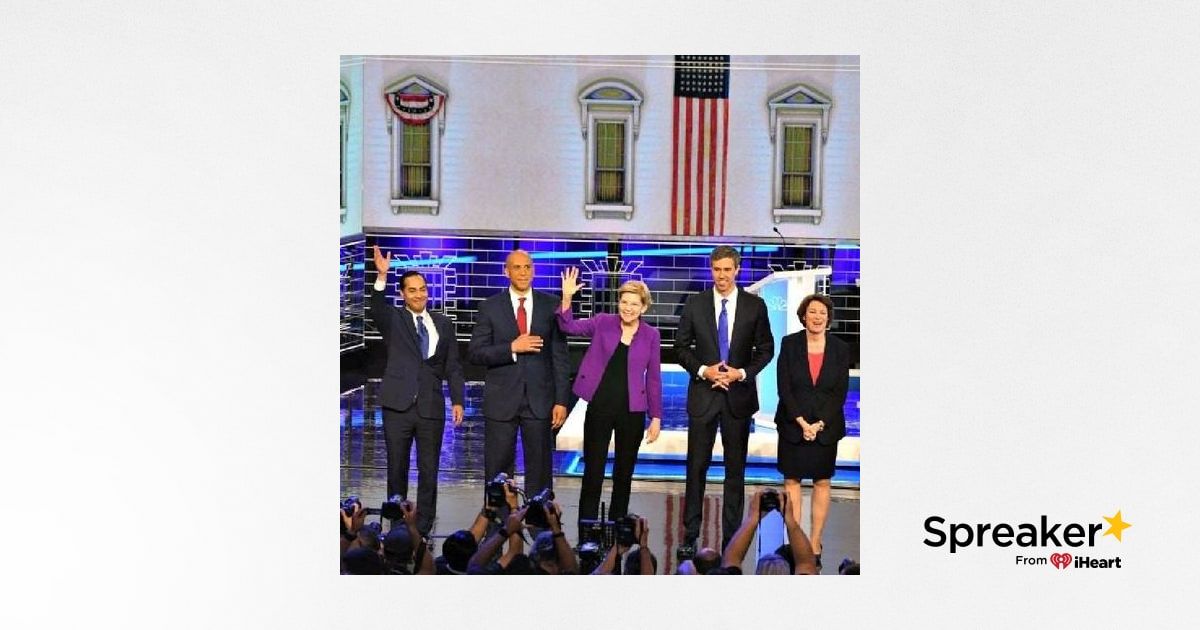 2020 Dems take shots at Trump And They Are All Blank! Ready For A Reload?
2020 Dems take shots at Trump, clash over policy proposals during Round 1
The first primary debate of the 2020 presidential election season saw cracks of daylight emerge in a Democratic field that has largely played to the progressive base,with the candidates clashing sharply over controversial policies like "Medicare-for-all" and calls to decriminalize illegal border crossings — while taking ample shots at … See More President Trump in the process. Staking out the left flank of the party Wednesday night in Miami were Sen. Elizabeth Warren, D-Mass. — the highest-polling candidate in the first debate batch — and long-shot Bill de Blasio, the New York City mayor. They were the only candidates to raise their hands when asked who's willing to give up their private health insurance for a government option. Warren went on to staunchly defend 2020 rival Sen. Bernie Sanders' "Medicare-for-all" plan.
Beto O'Rourke, the one-time media darling in the crowded Democratic field who has watched his poll numbers wilt in recent months, looked to regain much of his lost momentum on Wednesday night. While he was among a handful of candidates who gave some responses in Spanish, he repeatedly found himself on the receiving end of swipes from rivals, especially former Housing Secretary Julian Castro.
Among the candidates looking for breakout moments, Castro may have come the closest with his controversial call for the decriminalization of illegal border crossings, challenging his fellow presidential hopefuls to agree to repeal the section of the Immigration and Nationality Act that applies. He called out O'Rourke by name for not supporting his proposal, saying, "I think you should do your homework on this issue. If you did your homework on this issue you would know that we should repeal this section." Discussing the heartbreaking photo that emerged this week of a migrant father and toddler daughter who drowned trying to cross the Rio Grande, Castro said it "should piss us all off."
President Trump, who was on his way to Osaka, Japan, for the G-20 Summit, watched at least the first half-hour of Wednesday's debate, tweeting a one-word verdict of the event: "BORING!" He later swiped at NBC News and MSNBC for technical difficulties that marred part of the telecast.
Despite their differences on major issues, the candidates – especially Warren — rallied to downplay economic successes and growth under the Trump administration. "It's doing great for a thinner and thinner slice at the top," Warren said of the economy.The Trump campaign and Republican National Committee rapid response team, though, sent email blasts and tweets "fact-checking" and defending the president's economic record and the creation of "6 million jobs" since Election Day 2016.
Biden, Sanders to share the stage, more fireworks expected in Round 2
The second round of the first Democratic primary debate will take place in Miami on Thursday and will feature the current frontrunner, former Vice President Joe Biden, and U.S. Sen. Bernie Sanders, I-Vt., on the same stage. The debate will also include these eight candidates: U.S. Sen. Michael Bennet of Colorado; South Bend, Ind., Mayor Pete Buttigieg;U.S. Sens. Kirsten Gillibrand of New York and Kamala Harris of California; Colo. Gov. John Hickenlooper; U.S. Rep. Eric Swalwell of California; author Marianne Williamson; and businessman Andrew Yang
Ahead of G-20 Summit, Trump vows more tariffs on China if no deal is reached
Before leaving for the G-20 Summit, President Trump, in an exclusive interview with Fox Business' Maria Bartiromo on Wednesday, vowed to impose additional tariffs on China if a trade deal is not reached. "When tariffs go on in China, we are taking in billions and billions of dollars," Trump said. "We never took in 10 cents — now you have another $325 billion that I haven't taxed yet. It's ripe for taxing — for putting tariffs on." Trump is expected to meet with Chinese President Xi Jinping on Saturday to discuss trade between the world's two largest economies. The result could have broad implications for the markets and the global economy.
Although it's "possible" to reach a good deal, Trump said his "plan B" may include a 10 percent tariff on the remaining "$600 billion" worth of Chinese goods. Besides Xi, Trump's agenda in Osaka includes sit-downs with Russian President Vladimir Putin, Turkey's Recep Teyyip Erdogan, Saudi Crown Prince Mohammed bin Salman, Germany's Angela Merkel and Japanese Prime Minister Shinzo Abe.
Woman recalls falling ill in Dominican Republic, says doctor flagged possible poisoning
A Canadian woman who stayed at a Bahia Principe resort in the Dominican Republic in 2016alleges that she fell critically ill after being exposed to a strong chemical odor in her room, and that she has battled multiple health problems ever since. Tina Hammell told CNN that the smell in her room at the Grand Bahia Principe Punta Cana resort woke her and her husband from a nap. Hammell is one of several people who have come forward to tell reporters about having fallen ill — sometimes requiring hospitalization — while at a resort in the Dominican Republic. After she and her husband returnedhome to Ontario, doctors told her that she may have been poisoned by something in the Dominican Republic.
Possible new clue is search for missing Utah college student
Salt Lake City police reportedly served a search warrant Wednesday at a home connected to the disappearance of a missing Utah college student, reports said. Mackenzie Lueck, 23, was last seen June 17 near a Salt Lake City park after she was dropped off by a Lyft driver. The University of Utah student was returning from her grandmother's funeral in California. Assistant Chief Tim Doubt said there is a "nexus" between the home and Lueck's disappearance, but he did not say if anyone has been arrested, the Salt Lake Tribune reported. The Lyft driver, who was cleared as a suspect, told police he dropped off Lueck around 3 a.m. at Hatch Park, where another car was waiting for her.
TODAY'S MUST-READS
Sen. Lindsey Graham: Nancy Pelosi is 'biggest loser' now that Mueller will testify.
Remembering Beth Chapman, wife of Duane 'Dog the Bounty Hunter' Chapman.
Lawmakers seek to rescind Medals of Honor from soldiers at Wounded Knee massacre.
MINDING YOUR BUSINESS
Wayfair walkout: How furniture retailer can avoid 'slippery slope'of political pressure.
How's the economy? Everyday Americans disagree with experts.
These are the richest people in each state.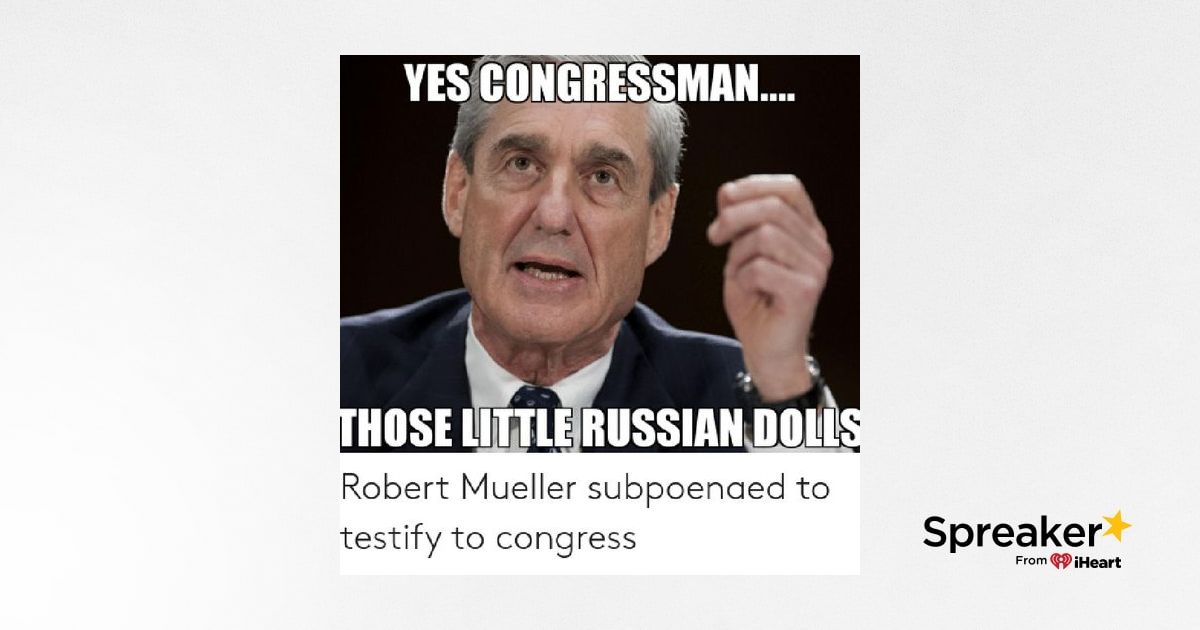 Mueller has agreed to testify before the House judiciary and intelligence committee, do really think he had anything important to say?
Mueller agrees to testify under subpoena before House lawmakers
It looks like critics who thought they had heard the last from former Special Counsel Robert Mueller in the ongoing President Trump-Russia collusion saga have been proven wrong. Mueller has agreed to testify before the House judiciary and intelligence committees on July 17 after they subpoenaed … See More Mueller on Tuesday, according to the committees' chairmen, Reps. Jerry Nadler, D-N.Y., and Adam Schiff, D-Calif. House Democrats have fought toget access to Mueller and his unredacted report on Russian interference in the 2016 presidential election and whether President Trump obstructed justice. Weeks of negotiations between the Democrats and the Justice Department ultimately resulted in the subpoena.
Fox News has learned Mueller would agree to appear only under a subpoena – and that the subpoena was "friendly." Perhaps a bigger question is, What do Democrats hope to achieve with Mueller's testimony? The news of his scheduled appearance has already overshadowed this week's scheduled Democratic primary debates and could be addressed by all 20 presidential candidates over the two-night event in Miami. Some GOP lawmakers, such asU.S. Rep. Matt Gaetz of Florida, a Judiciary Committee member, warn that Democrats could be planting the seeds of "impeachment by surprise." But Rep. Mark Meadows, R-N.C., says Mueller better be prepared for a "GOP cross-examination" when he testifies.
Dershowitz: Dems 'shooting themselves in the foot' with Mueller subpoena
Democrats will regret issuing a subpoena to former Special Counsel Robert Mueller, according to famed legal scholar Alan Dershowitz. Democrats, Dershowitz argues, appear to have overlooked that Republican lawmakers also will have an opportunity to question Mueller and highlight weaknesses and potential biases in his investigation and report. And Mueller cannot refuse to answer questions from Republicans not covered by "privilege," Dershowitz said on Fox News' "The Ingraham Angle." "I'm trying to stop them from shooting themselves in the foot," he said. In separate column for FoxNews.com, Dershowitz, writes the following: "Mueller should refuse to say anything about the investigation of Trump and his campaign beyond what is already in his report."
Democratic primary debate, Night 1
The road to the 2020 presidential election will heat up, starting with the first Democratic primary debate, which will take place over two consecutive nights, starting Wednesday. Because so many qualified for the first round of debate, the candidates were split up randomly into two groups. The two-hour debates will kick off at 9 p.m. E.T. in Miami, Fla. on Wednesday and Thursday. A total of 20 candidates — 10 each night — will debate. Wednesday's participants will include: Julian castro, former secretary of Housing and Urban Development; John Delaney a former congressman from Maryland; U.S. Rep. Tulsi Gabbard of Hawaii; Washington Gov. Jay Inslee; U.S. Sen. Amy Klobuchar of Minnesota; Beto O'Rourke, a former congressman from Texas; U.S. Rep. Tim Ryan of Ohio; and U.S. Sen. Elizabeth Warren of Massachusetts.
Showdown over border aid bill brews in Congress; Customs and Border Protection chief steps down
The House approved a $4.5 billion supplemental spending bill on Tuesday night to address humanitarian issues at the U.S.-Mexico border and to provide additional funding for food, water, medical services and stronger protections for unaccompanied children, among other things — setting up a showdown between the Democrat-led House and the Republican-led Senate. The House bill, which passed 230-195, included specifics that would prevent the Trump administration from allowing any funding to go toward supporting Immigrationand Customs Enforcement (ICE) personnel at the border, likely to become a point of contention with Republicans. President Trump warned Monday that he would veto the House bill if it passed. Earlier Wednesday, Acting Commissioner John Sanders of U.S. Customs and Border Protection resigned amid ongoing controversy over conditions at migrant detention facilities along the U.S-Mexico border.
Navy SEAL's defense expected to begin at court-martial
The prosecution in the court-martial of Navy SEAL Eddie Gallagher rested its case Tuesday, ending six days of testimony in which SEALs accused one of their own of stabbing to death an ISIS prisoner in Iraq in 2017. Special Operations Chief Gallagher is charged with premeditated murder. In a trial that has frayed the reputation of the SEAL community, the Navy's lead investigator took the witness stand Tuesday for cross-examination and was accused of vindictiveness, incompetence and a rush to judgment. Gallagher'sdefense is expected to begin its case Wednesday morning and show jurors videotaped testimony from an Iraqi general who handed over the ISIS fighter to Gallagher for medical treatment..
TODAY'S MUST-READS
Jay Sekulow: Obama administration's anti-Trump actions revealed in newly disclosed documents.
Lawrence Jones: NBA 'owner' nix is 'political correctness gone wild.'
Dozens of uniformed service members attend funeral of 5-year-old who wanted to be 'Army Man.'
MINDING YOUR BUSINESS
Wayfair employees plan walkout over $200G furniture order to immigration detention facility.
These are the most undervalued cities in the US this year.
Town where Jeff Bezos, Bill Gates live is running out of money.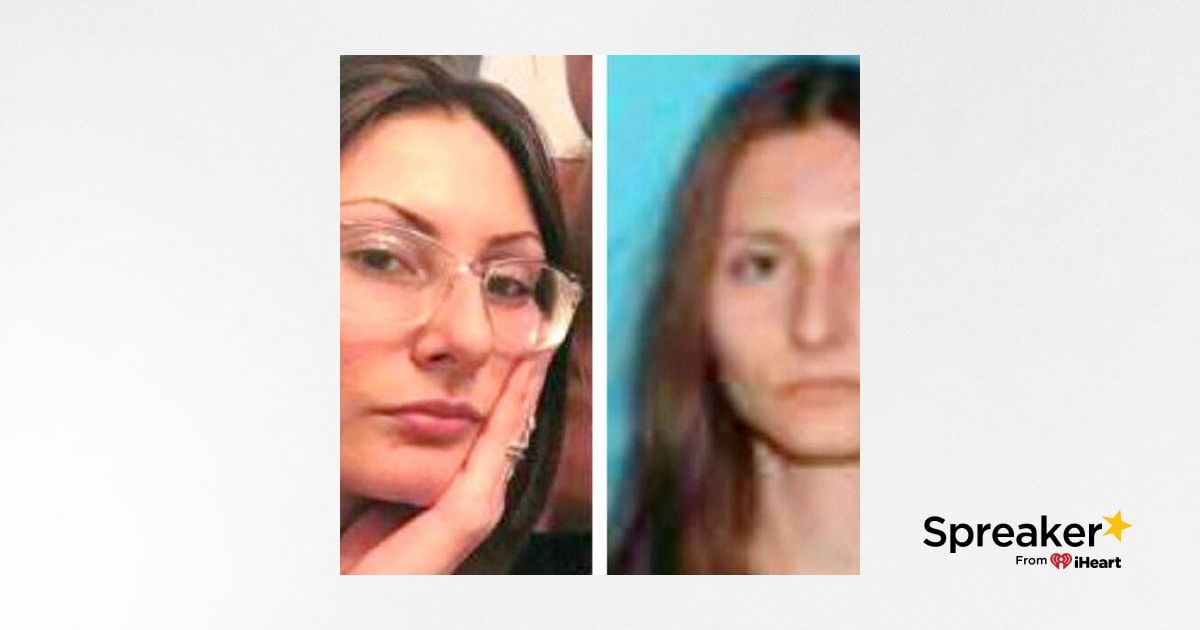 Schools closed over teen obsessed with #Columbine #MAGAFirstNews with @PeterBoykin Criminal referrals tied to Mueller probe may have wide reach; Schools closed over teen obsessed with Columbine CRIMINAL REFERRALS TIED TO MUELLER PROBE COULD HAVE WIDE REACH: As many as two dozen individuals may be implicatedin House Intelligence Committee ranking member Devin Nunes' criminal referrals to the Justice Department arising out of Special Counsel Robert Mueller's recently concluded Russia
…
See More
probe, sources have confirmed to Fox News … The sources confirmed that the referrals related in part to the anti-Trump dossier compiled by British ex-spy Christopher Steele, and his work for the Clinton camp and the Democratic National Committee-funded firm Fusion GPS. Meanwhile, three top Republican Senate committee chairmen said Tuesday that the DOJ has 10 days to explain itself as to why FBI investigators looking into Hillary Clinton's email use in 2016 sought access to "highly classified information" they said was "necessary" to complete their probe, but later withdrew the request and cleared Clinton of wrongdoing. Attorney General William Barr is expected to release a redacted version of the Mueller report to the public on Thursday. FBI failed to provide details on contact with Clinton campaign lawyer: Judicial Watch This combination of undated photos released by the Jefferson County, Colo., Sheriff's Office on Tuesday, April 16, 2019 shows Sol Pais. On Tuesday authorities said they are looking pais, suspected of making threats on Columbine High School, just days before the 20th anniversary of a mass shooting that killed 13 people. (Jefferson County Sheriff's Office via AP) SCHOOLS CLOSED OVER WOMAN 'INFATUATED' WITH COLUMBINE MASSACRE: Multiple Denver-area school districts have canceled classes for Wednesday after a Miami woman "infatuated" with the 1999 Columbine massacre made threats and traveled to Colorado where she bought firearms earlier this week, according to the Jefferson County Sheriff's Office and the FBI … Sol Pais, 18, who has a history of making "concerning" comments, arrived in Colorado from Miami early Monday and bought a pump action shotgun and ammunition, the FBI told reporters Tuesday evening. The FBI's Miami office had reportedly alerted its Denver counterpart after learning of the potential threat.Authorities said Pais was last seen in the foothills of Denver and remains at large. The Jefferson County Sheriff's Office is currently leading multiple agencies in a massive manhunt. TRUMP MOVES TO DENY BAIL TO SOME ASYLUM SEEKERS – Amid a surge of Central American migrant families at the U.S.-Mexico border, the Trump administration on Tuesday reportedly moved to deny bail to some asylum seekers … According to the Wall Street Journal, if the ruling issued by Attorney General William Barr takes effect, it could mean that asylum seekers could spend more time in jail while their cases are decided. The ruling is due to be implemented in 90 days. Nearly 60K known or suspected illegal immigrants in federal prisons, DOJ says A VOW TO REBUILD NOTRE DAME CATHEDRAL IN FIVE YEARS: French President Emmanuel Macron vowed Tuesday to rebuild the badly burned Notre Dame Cathedral in five years, as dramatic footage was released showing the heroism of firefighters who battled the blaze for hours … "We will rebuild Notre Dame even more beautifully and I want it to be completed in five years," Macron said in a televised address to the nation. "We can do it." Macron added that Monday's inferno "reminds us that our story never ends. And that we will always have challenges to overcome. What we believe to be indestructible can also be touched." TRUMP HAS 2020 PREDICTIONS: President Trump offered his thoughts Tuesday night on which two Democratic contenders he thinks will be left standing in the 2020 Democratic presidential primary. Out of the crowded pool of contenders, Trump predicted on Twitter that former Vice President Joe Biden and Sen. Bernie Sanders will be the final two in the battle to be the party's nominee … "I believe it will be Crazy Bernie Sanders vs. Sleepy Joe Biden as the two finalists to run against maybe the best Economy in the history of our Country (and MANY other great things)!" he wrote. "I look forward to facing whoever it may be. May God Rest Their Soul!" 'WASHED UP CELEB' LIAR: Cook County State's Attorney Kim Foxx described "Empire" actor Jussie Smollett as a "washed up celeb who lied to cops" in texts messages released Tuesday by her office in response to a public-records request by the Chicago Tribune … Foxx compared Smollett's case to her office's pending indictments against R&B singer R. Kelly in text messages to Joseph Magats, her top assistant, on March 8, the paper reported "Pedophile with 4 victims 10 counts. Washed up celeb who lied to cops, 16 (counts)," she wrote. "… Just because we can charge something doesn't mean we should."
---